SWEET DREAMS ARE MADE OF THIS
Few things bring people together like Fudge. John and Johnnie Young, owners of the PA Fudge Company, located in beautiful Lancaster County, PA, are certainly connecting with a multitude of people through their amazing homemade fudge. Who is their typical customer? Well, there isn't just one. All lovers of their sweet treats keep coming back for this Lancaster County treasure. Johnnie makes all of the fudge by hand in small batches, featuring the best ingredients available and absolutely no preservatives added. The fudge is made fresh and new flavors are constantly being introduced, often upon customer request. Tiger Butter, which puts fresh peanut butter between two layers of vanilla fudge, is a big seller, while Hot Mombosa is popular with those fudge fans looking to add a bit of heat to their experience. No matter what your flavor preference is, you can be assured, according to our customers, that PA Fudge Company's fudge is the best fudge available.
WHAT SETS US APART FROM THE REST OF THE FUDGE MAKERS?
People ask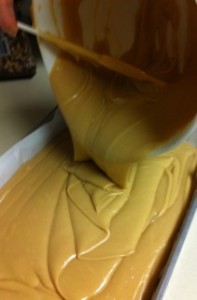 all the time "what makes your fudge taste amazing?"
We believe that the best fudge is made in small batches and poured into small pans. This is essential for our quality control and enables us to add a unique and creative design to each pan of fudge. Making fudge in small batches allows us to sell the freshest fudge you can buy.
Johnnie starts out by combining fresh, high quality ingredients in a small kettle where the fudge is cooked to desired temperatures and blended until smooth, creamy and full of flavor. Next, she mixes in by hand any inclusions needed for a particular flavor, like the nuts in Maple Walnut or the marshmallows in Rocky Road. Finally, the fudge is hand poured into small pans and cooled slowly at room temperature thus preserving that soft, sweet, rich flavor that PA Fudge Company is well known for.